"Guess what?! I got a fever, and the only prescription is more cowbell!"
I love that SNL skit! lol
I do have the fever....the fever to change up this house!!!!
When we get to feeling better we're for sure going to be doing some floor sanding and staining. A color along these lines. With a light colored wall. "natural wicker" is the color :)
I want a new table too....this is for sure it!
I know this isn't for for everyone but I love these lights
and copper everywhere :)
this is too easy and inexpensive not to do! Maybe this will be first :)
I'm joining my girl Daph over at
Flip Flops and Pearls
for her Semi Wordless Wednesday. Stop on by and join in :)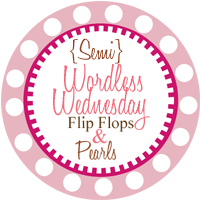 Thanks for stopping by and come back anytime or follow along if you like.
You can also find me on Facebook at Monogram Boutique or follow along with me at my Twitter and Pinterest account name "lawilkerson". Send a shout out and i'll follow you back!
Thanks all and many blessings,
Laura