Hey ya'll!
With all these strawberries in season now, who wouldn't want a easy, cool and refreshing strawberry dessert!
I made a simple yellow cake and in a 13x9 cake pan. You can make one from scratch or use your favorite box brand. Don't fuss too much over it because you're gonna doctor it up!
After I baked the cake I took about a 1/2 stick of butter and rubbed it over the cake until it melted. You can skip this step but at the time it sounded really good so I went for it :)
Then I poked holes in it with a wooden spoon. I made some strawberry jello and instead of letting it sit and gel I poured it in the holes.
Sliced some strawberries for the top and popped it in the fridge and let get real cold.
I did make some whipped cream from scratch cause it just tastes much better to me and served it on the side.
YUMMY!!!
This cake didn't last long in my house for sure!
Ya'll enjoy!
I'm joining Daph at
Flip Flops and Pearls
for her Recipe Swap! Drop on by :)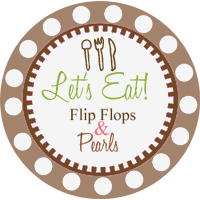 Many blessings,
Laura